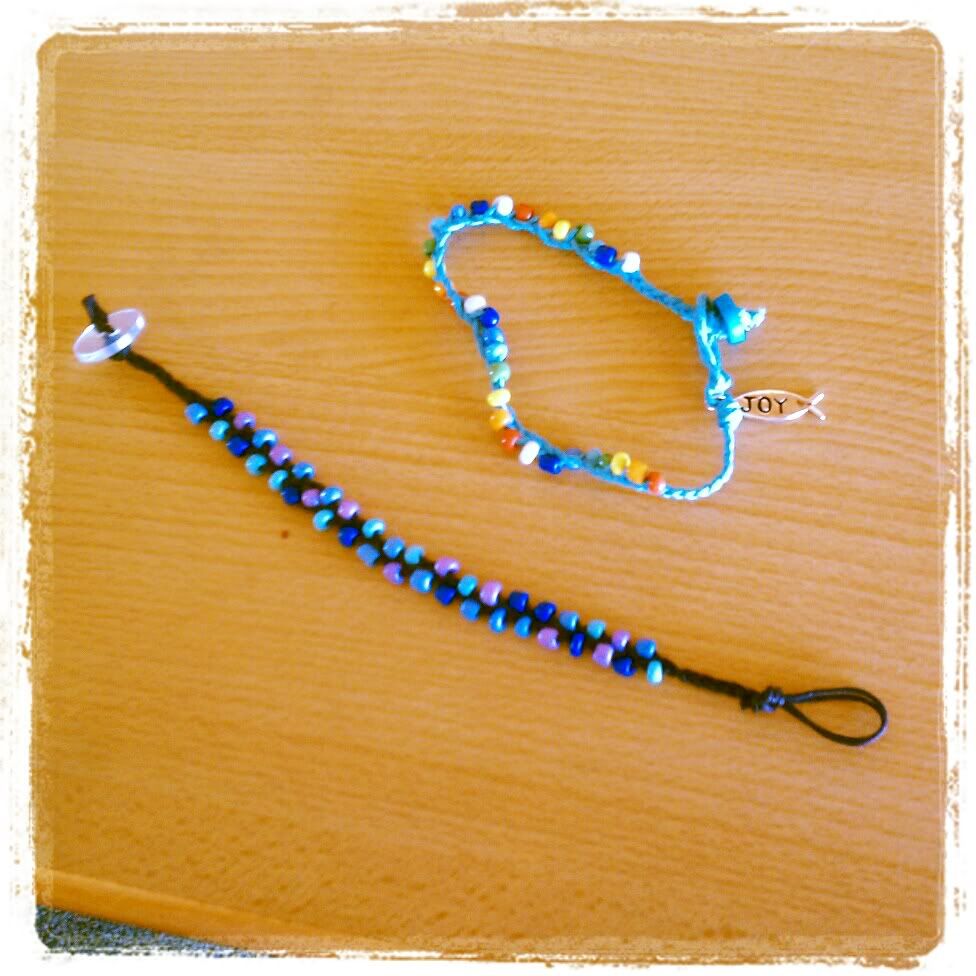 Yesterday we made the
DIY Bracelets
that we had discovered on
Pinterest
. G-pie had noticed we had a lot of
projects pinned
and none
done
. So after doing the
menu board
, I created my "
completed projects
" board and have been inspired to do more (so I can fill that board on Pinterest, LOL!)... so many creative and crafty ideas.
G-pie made the bottom one for her Grandma's 60th birthday gift, while J-cakes and I made the top one, also for Grandma. Then we decided to make this tasty
Kiss Gloss
as a party favor for the fun celebration we shared with the family.
We made cinnamon flavor. It has a bit of a zing. But the candy melts and paraffin wax give it a nice consistency- it is super easy to make...
We used red candy melts, household paraffin wax, petroleum jelly and cinnamon candy flavoring. Along with the coconut oil, a baggie, a bowl of hot water and 9 sterilized bead containers from the craft store. We doubled the recipe given on Brooke's blog,
http://www.cheekykitchen.com/
, and next time I would probably cut down the cinnamon flavor. We have plenty left to try out the cherry and peppermint flavors that came with the set of oil based candy flavorings. I would love to try and make this a more natural gloss- replace the paraffin & vaseline with cocoa butter perhaps, and the artificial flavors with natural essential oils.
For this project I did finally get around to opening the new coconut oil that
Tropical Traditions
sent- and I also used it to make eggs yesterday morning (and to to rub down the potatoes and yams for baking for last night's dinner party). I am only comparing it to the other one I have tried, which we ordered from
www.azurestandard.com
, from
Wilderness Family Naturals
.
Both are certified organic- I really need to do some research on the differences in extraction methods- the Tropical Traditions sounds better
"...the pure coconut water from inside the coconut is used to extract the coconut milk using traditional methods. Small scale family businesses [in the Phillipines] produce this oil in small batches, taking great care and pride in their work."
The Wilderness Family Naturals on the other hand is "mechanically expressed without the use of solvents or chemicals and 'super cleaned' using hot water and steam."

For dinner we grilled Tri-tip, fully loaded the baked potatoes, which turned out perfect- the skins were softer than when I have baked potatoes rubbed with other types of oil or fat. The coconut oil worked splendidly. It was also a good choice for the yams- which were terrific with a tiny bit of butter. We also had sour dough bread and a
Spring Berry Herb & Feta Salad with TJ's Rosemary Pecans and TJ's Champagne Vinaigrette
- wish I had taken a picture of it.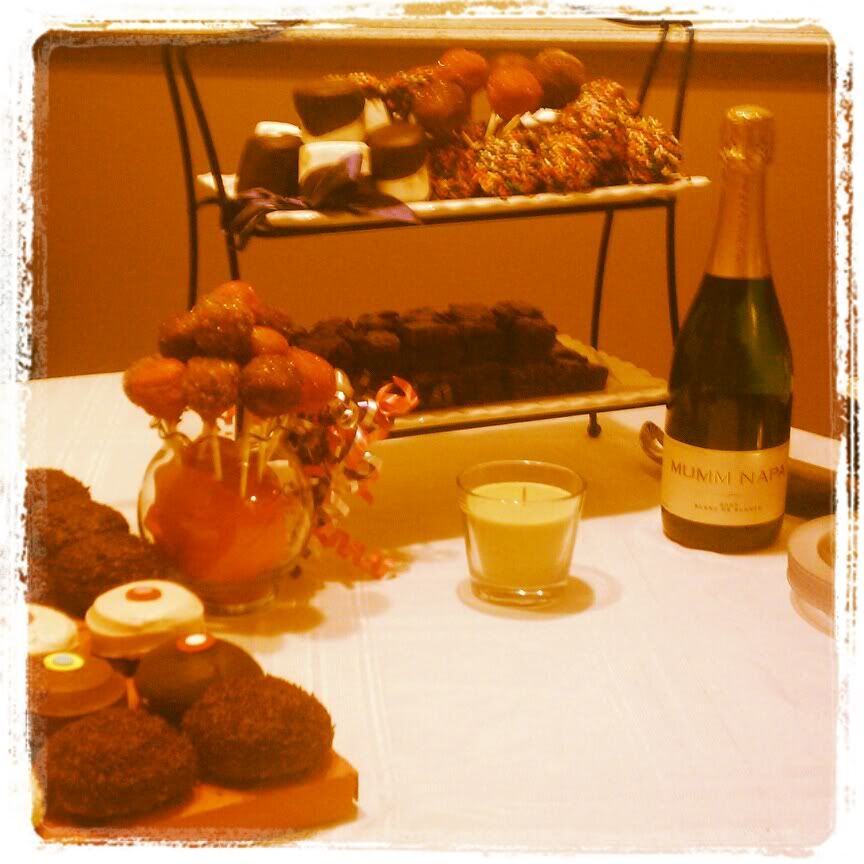 The family enjoyed the evening and my MIL seemed to appreciate the celebration. and look at the dessert my equally creative SIL brought...
Sprinkles Cupcakes
and cake pops, brownie bites, chocolate dipped marshmallows, Champagne- oh and ice cream from a place in Santa Barbara where the boys and their mom used to stop on road trips.
An abundance of delight and decadence!